A lot of things have been found on Google maps, including naked people, hit and runs and other serious crimes. But this crime spotted on Google Maps tops them all. It shows what looks to be a bloody crime scene with two people dragging a corpse to the end of the pier. It looks as if they might be trying to dump the body into the water, followed by a long bloody trail.
However, the body was just left at the end of the dock. Maybe they wanted their victim to be found? This is very creepy! You can see two people fleeing the scene on the right-hand side of the photo below. It looks like the man by the body might be contemplating what to do. I guess we should all be aware of Big Brother, he will always be watching us.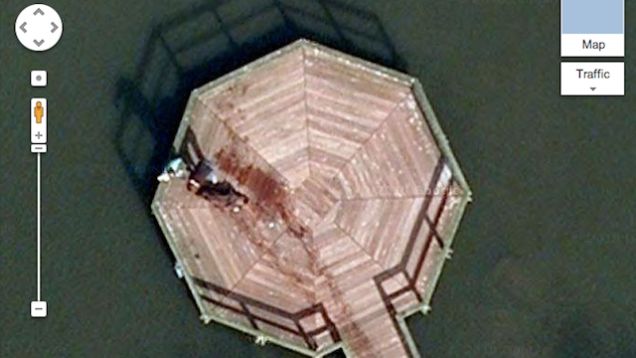 Authorities say they have identified the body but are not releasing the name of the male victim until family is notified. They say he was a hispanic male in his late 20's, that had been stabbed to death at the scene over 20 times. They have yet to capture the alleged murderers.