Authorities are investigating the deaths of 7 dogs after an American Airlines flight to Chicago.
Flight 851 was one hour late leaving Tulsa, Oklahoma, Tuesday morning, according to Mary Frances Fagan, director of corporate communications for AA. The flight arrived at Chicago's O'Hare Airport at 8:54 a.m. with 14 dog kennels on board.
All the dogs on Flight 851 were "bound for other locations," Fagan said. Ramp workers noticed the animals looked "lethargic" when they began the process of moving the dogs to the other flights. The animals were taken from the airport to a veterinarian, Fagan said, but 7 dogs later died.
The incident is under investigation. The airline said it has drawn no conclusions on what happened.
"We normally transport 100,000 or more every year. We certainly do value pets that our customers have as well as our own," Fagan said.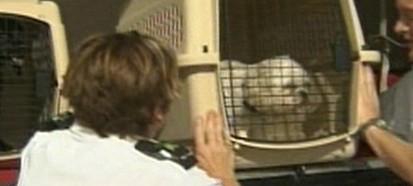 The American Airlines website explains the rules for accepting dogs and cats on aircraft, including: "Temperature restrictions have been established to ensure animals are not exposed to extreme heat or cold in the animal holding areas, terminal facilities, when moving the animals between terminal and aircraft or on an aircraft awaiting departure."
The airline's website says pets cannot be accepted when the current or forecasted temperature is warmer than 85 degrees at any location on the itinerary.
The Dallas Morning News reported the temperature at Tulsa International Airport was already 86 degrees at 7 a.m. before the plane's departure, and 87 degrees at 8 a.m.